PAX South PS4 Giveaway
New Sony Playstation Console
Sign up to win:
Playstation Console
DualShock 4 controller
Power Cable
HDMI Cable
Stay Connected with Glitchgear.com
No strings attached. Just your chance to win a new Playstation 4 system!

Weekly Glitch Giveaways
Stay connected with Glitch to receive notifications for Contests and Glitch Giveaways.
What's Hot at Glitch Gear
Keep up with the latest licensed gamer gear and accessories designed and developed by Glitch.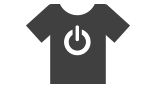 Glitch Daily T-Shirt Deals
Receive Glitch daily and weekly discount codes and deals for the coolest gamer t-shirts and apparel.
Glitch Gear is the only brand that wants you to wear the games, we are solely dedicated to providing the most creative gamer shirts, hats, plush and more.
Glitch is a Gamer Lifestyle Brand that specializes in official video game apparel and product development for gamers by gamers.